CBRCC 55th Annual Gala brought emerald elegance to the Tides Club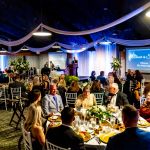 The Cocoa Beach Regional Chamber of Commerce hosted their 55th Annual Gala
Friday, February 3, with an emerald theme and a focus on their 2023 initiative,
#ASCEND. With a room full of community leaders, Jimmy Lane, the President and
CEO of CBRCC led a thoughtful presentation of all the work being done within the
Chamber. There was a special recognition of the 2022 Outgoing Chair Amy Krupp,
and a "crowning" with the honorary green jacket that represented all past chairs.
Dr. Michael Cadore, Associate Dean of Eastern Florida State College, took part in the
program by leading the Board of Directors' installation and helping to welcome the
new 2023 Chair, Cordell Rolle of Rolle IT, LLC.
One of the highlights of the evening was the naming of the 2023 Distinguished
Service Award Recipient. The Distinguished Service Award is the Chamber's highest
recognition to an individual who has shown exemplary leadership and commitment
to the community. The CBRCC is proud to announce that this year's recipient was
Jeanna Merrifield of Wild Ocean Market.
This year was a special event, enhancing everything that has been done from
previous years and bringing to life a whole new look and feel to what has been
called the Annual Gala. With a VIP Reception and a Champagne Girl that greeted
everyone with a glass of bubbly, the celebratory mood was already set going into
the program. The evening was spectacular, and the Cocoa Beach Regional Chamber
of Commerce is honored to have so many incredible investors and supporters, and
an incredible staff that makes the organization successful.